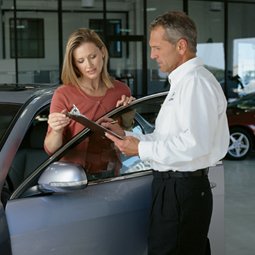 Enjoy Top-Notch Ford Service at Ford of Englewood, Inc.
Whether you're aiming to keep your brand-new Ford model in great shape or you're trying to keep your pre-owned vehicle running as smoothly as possible, you can rely on our skillful team of highly-trained technicians here at Ford of Englewood, Inc. to help your ride last longer and perform better. From routine maintenance to unexpected repairs, our service center is well-equipped with state-of-the-art tools and knowledgeable staff to handle your vehicle's service needs.
Staying Up to Date with Routine Maintenance
Routine checkups are essential to making sure your vehicle stays at the top of its game for as long as possible. While a vehicle's needs can vary depending on its type and your driving habits and conditions, the need for regular maintenance is constant across the board. Your owner's manual will let you know what your vehicle needs and when, but you can always count on our team for help if you need it.
If your vehicle is due for an oil change, tire rotation, filter change, or another bit of routine maintenance, simply schedule an appointment with our onsite service center so we can take care of it! We'll make sure your vehicle stays in excellent condition and get you safely back on the road again in no time.
Schedule Service
Is your vehicle's next service interval creeping around the corner? Does your car need service unrelated to its routine maintenance schedule such as a check engine light diagnosis or brake inspection to address an unforeseen issue? We're here to help! Schedule an appointment online or give us a call at our service center to set up a time that works for you to bring your vehicle in for high-quality automotive care.
Our team is dedicated to helping our community members get the most out of their vehicles, so don't hesitate to schedule service for your vehicle today!
Ford Service Near Fort Lee, Teaneck, North Bergen and New York, NY Keeps Vehicle Performance Optimal